"Gender" is a sociological concept that refers to relationships between men and women that are socially and culturally constructed. Gender is in fact the social sex as it refers to the differences between men and women that do not pertain to biology but to the construction of social relations. It is therefore through the intermingling of socio-cultural and political dimensions that one must understand the societal challenges related to gender equality and the struggles against discrimination underlying gender and development studies in the Caribbean. The study of gender relations in Caribbean societies is an innovative field at the crossroads of disciplines, whether it is sociology, anthropology, or postcolonial studies. As a scholar specializing in cultural studies and gender studies, I am particularly interested in the literary and artistic productions of Afro-Caribbean women and their strategies of resistance to oppression through art and creative writing.
My research is rooted in Black feminist theories that seek to invalidate all stereotypical representations of women of African descent in the Americas. The ideology of Black feminism destabilizes the matrix of domination, that is the set of social practices generated by intersectional oppressions. Coined by American feminist Kimberlé Crenshaw, the concept of intersectionality is central to Black feminist terminology: it refers to the situation of people simultaneously enduring several forms of domination or discrimination in a society. In Western societies (European and North American), the self is constructed in relation to a predefined fixed model and in this sense, those who do not meet all the criteria of the standard category 'male, white, middle or upper class, heterosexual, Christian and healthy' are labeled as "others". This is the definition of the norm. Many theorists and academics have criticized this norm which was imposed through dominant Western discourse and binary thought that systematically oppose man and woman, white and black, nature and culture, body and mind, subject and object. All these binary patterns have therefore contributed to reinforce the oppression of all those considered as "other" and Black Feminist theorists denounce the fact that Black women have to endure this system of intersectional oppressions based on gender, race and class.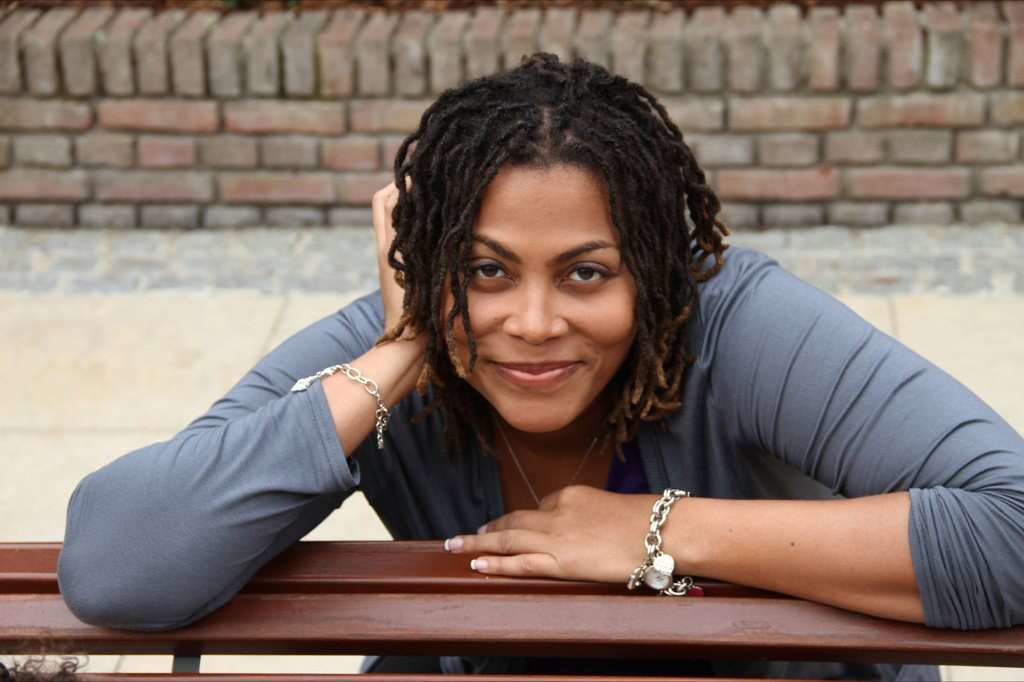 Often left on the margins of history, women of African descent have long been devalued, ignored, and erased from hegemonic and patriarchal discourses. According to African-American feminist Patricia Hill Collins, there is an urgent need to refute all the derogatory images that affect Black women's daily lives in the Americas and are vectors of racism, sexism, poverty, and all other forms of social injustice. In her seminal text in the field of postcolonial studies "Can the Subaltern Speak?", Indian philosopher Gayatri Spivak is highly critical of discriminatory discourses and limiting representations to non-white women whose voices are eclipsed.
In the English-speaking Caribbean, women have long been excluded from dominant discourses and have constantly struggled to impose their voices and develop their agency, that is to say their ability to act and to shift the power dynamics. Caribbean male writers themselves, for example Jamaican Claude McKay and Trinidadian Alfred Mendes, in their respective novels Banana Bottom (1933) and Black Fauns (1935), have contributed to this lack of agency as the voices of their feminine counterparts were often discredited or devalued as mere chatting or gossiping. As of the end of the 1980s, issues of voice and voicelessness  became central to allow the emergence of intellectual productions from women in the Caribbean. In 1990, Carole Boyce-Davies and Elaine Savory offer a double definition of voicelessness which still makes sense in some contexts: on the one hand, voicelessness as "the historical absence of the woman writer's text: the absence of a specifically female position on major issues such as slavery, colonialism, decolonization, women's rights and more direct social and cultural issues", and on the second hand, voicelessness as silence, that is to say "the inability to express a position as well as the textual construction of the woman as silent". (Out of the Kumbla: Caribbean Women and Literature, 1990: 21). The absence of feminine points of view is clearly no longer relevant with respect to the most recent literary productions in the English-speaking Caribbean with a record of talented and well-known contemporary women writers at home and in the diaspora: Jamaica Kincaid, Merle Hodge, Olive Senior, Dionne Brand, Opal Palmer Adisa, Paule Marshall, Lorna Goodison, Nalo Hopkinson, Makeda Silvera, among others. When it comes to power in political spheres, many Anglophone Caribbean women have marked and continue to mark the region through their agency and political leadership, from the Caribbean 'Iron Lady' Dame Mary Eugenia Charles, Prime Minister of Dominique from 1980 to 1995 to the Honorable Mia Amor Mottley, Prime Minister of Barbados since 2018.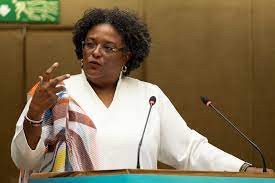 The Honorable Mia Mottley, Prime Minister of Barbados (Creative Commoons license)
French Caribbean women however share a different experience as it seems that they still strive to position themselves and assert their voices, in particular within intellectual and political spheres. In the Martinican context, dominated by men, intellectual circles have grown with the emergence of major writers and theorists in the field of Black studies (Aimé Césaire, Frantz Fanon, Édouard Glissant, and the three authors of Éloge de la Créolité, Jean Bernabé, Patrick Chamoiseau and Raphaël Confiant). Meanwhile, the texts written by women have been eclipsed or underestimated by these major male thinkers and writers who have indeed asserted their Blackness or Créolité to the detriment of the voices of their female counterparts and the gender issue overall. Unlike their English-speaking and African-American Caribbean counterparts, French Caribbean women seem to have developed a relatively ambiguous form of complicity and solidarity with 'their' men, which seems to have prevented them from making their voices heard fully and publicly. Afro-Martinican women in particular have seen their spaces for expression diminished and delimited by their male counterparts and constrained by the dictates of the myth of the "poto-mitan" woman. The "poto-mitan" which also designates the cylindrical column erected in the center of the Haitian Vodou temple has become a symbol of the strength of Black women in Francophone Caribbean societies, including in Haiti. Women therefore quickly felt the need to embrace this "poto-mitan" identity to the detriment of the assertion of their inner selves. "Poto-mitan" women are described as resilient and fully responsible for their household with or without a male or father figure; these mythical and cultural constructions have gradually constituted actual burdens to Martinican women who, historically, have worked hard, but often in the shadow of (their) men. Their voices were therefore rarely heard outside domestic and private spheres.
However, Martinican female intellectuals and writers have not remained silent, they have developed and expressed major points of view on the complexities of the construction of Afro-Martinican identity (Suzanne Lacascade, Suzanne Césaire, Jane Nardal, Paulette Nardal), but  their voices were not valued in the same way as those of their male counterparts. In Guadeloupe, intellectual women and writers seem to have asserted their voices to a greater extent in the literary and political spheres (Gerty Archimède, Dany Bébel-Gisler, Lucette Michaux-Chevry, Maryse Condé, Simone Schwarz-Bart).  The essay by Maryse Condé which inspired the title of this article, La parole des femmes (Women's Speech), published in 1979, clearly demonstrates the urgency of the time to make the voices of women heard and reassessed in the French Caribbean.  From the 1980s to the present day, women writers in Martinique and Guadeloupe have constantly explored new angles of reflection that would allow them to go beyond the racial focus of Negritude so as to assert their Black female identities in the specific context of French Caribbean societies.  Gisèle Pineau, Fabienne Kanor, Suzanne Dracius-Pinalie and Mérine Céco all portray resilient Black female figures who seek to make their voices heard beyond normative and patriarchal patterns.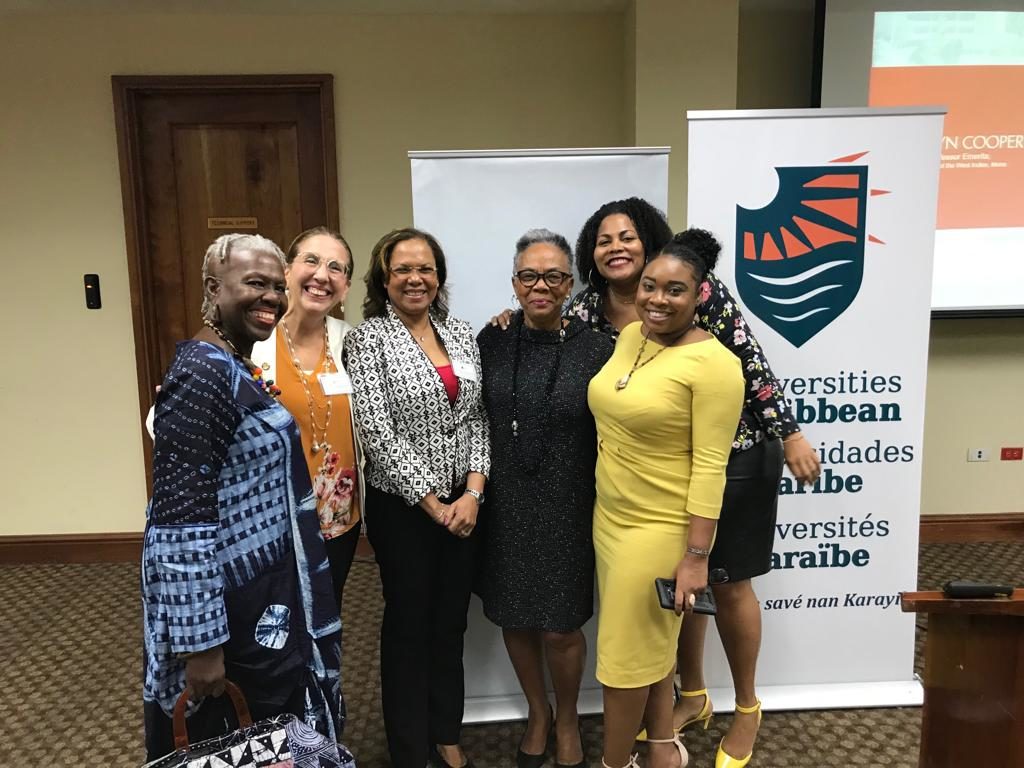 Symposium "One Caribbean Solutions", University of the West Indies, June 14, 2019.  Dr Myriam Moïse is alongside researchers and Caribbean universities leaders. 
As a young researcher in gender studies, I want to create a synergy between the voices of women of the Caribbean beyond cultural and linguistic differences. In my capacity as secretary-general of the  organization Universities Caribbean, I invite the universities of the region to unite in order to make their students aware of the major challenges related to parity and gender equality in Caribbean societies. It is fundamental to alert the students of the region to the challenges of education for gender equality and to the specific impact of environmental, health, and socio-economic crises on women in the region. The University of the West Indies is a pioneer in gender studies research in the Caribbean context as UWI's Gender and Development Studies Institutes (IGDS) have been in existence for over 40 years. It would be advisable to set up a multidisciplinary and plurilingual working team on gender-related issues in the Caribbean and ultimately consider the creation of a real trans-Caribbean research network on gender and gender equality as a priority topic to our region.
About Dr Myriam Moïse
 Dr Myriam Moïse is Associate Professor of English and Gender Studies at Université des Antilles in Martinique and Secretary-General of Universities Caribbean, the  organization of Caribbean universities and research institutes. She holds a Doctorate in Anglophone Studies from Paris Sorbonne University and a PhD in Literatures in English from the University of the West Indies. Her research fields include Gender Studies, Cultural Studies and Discourse Analysis, with a special focus on literary and artistic creations by Caribbean women of African descent. Her research has been funded by several visiting research fellowships in Europe and the USA: New York University in 2009, Brown University in 2012, University College London in 2018, and her recent Fulbright Fellowship at Emory University in 2020. Her most recent work was published in 2020 by Palgrave MacMillan, a collection entitled Border Transgression and Reconfiguration of Caribbean Spaces, co-edited with Fred Réno.
Dr Moïse is very committed to developing collaborative research and educational projects in the wider Caribbean region. She is currently engaged in various research activities including the European Union's Horizon 2020 Research and Innovation program "Connected Worlds: The Caribbean, Origin of Modern World" (www.conneccaribbean.com). In 2018, she was elected Executive member of the Caribbean Studies Association (CSA) and she regularly acts as French advisor for the Caribbean Examination Council (CXC) in Barbados.