The INTERREG Volunteers Youth (IVY) Agency makes volunteers available to the ELAN project team. This system is open to all projects co-financed by INTERREG and enables motivated young Europeans to develop and strengthen their skills while providing invaluable assistance to project teams.
In September and October 2020, two new volunteers joined the ELAN team in Martinique: Clara BOSZNAY and Serena CHARROUD. Having arrived almost at the end of their 6-month mission, they share with us their feelings and takeaways from this extraordinary experience.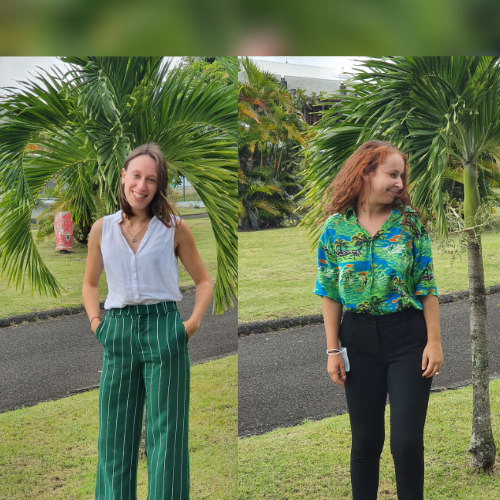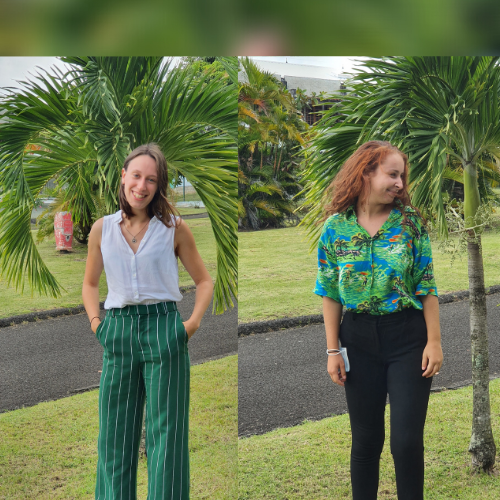 Can you introduce yourself ?
Clara: I am Clara, I am 23 years old and I grew up between Normandy and Hungary. I recently completed my studies at Sciences Po, and after graduating, I decided to do a European voluntary mission et and to go work on the ELAN project in Martinique!
Serena: My name is Serena, and I recently graduated from a Master's Degree in International Cooperation and Development at Sciences Po Bordeaux. After a year of preparatory class for business schools, I passed the exam to join the French-Caribbean Program, offered by this school. My participation to such program gave me the opportunity to study in the Caribbean, first at the Université des Antilles in Martinique, then at the University of the West Indies, in Jamaica
Why did you choose to be a volunteer ?
Clara: I heard about IVY while researching different types of volunteering missions, as I had a 3-month free period after an internship and before going back to school. Therefore, I learned about IVY and ELAN as early as October 2019, but the period being too short to plan a mobility in Martinique, I left in September 2020, after having graduated.
I applied to this volunteering mission with this Academy of Martinique because I had already a first experience in education, with an internship in a non-profit in Paris, thanks to which I discovered that I was really interested in this sector. Combining that to a project which an international dimension like ELAN seemed perfect to me! Besides, I did not know much about the Caribbean region, so it was also an opportunity for me to gain a new international experience.
Serena: Following an internship at the Martinique Tourism Authority, I wanted to experience working within a project management team, specifically in areas such as cooperation and capacity building, which are at the heart of the ELAN project. In this sense, IVY allowed me to participate in a useful and solidary project within the Caribbean region, to which I am very attached. Plus, the possibility to work on a European project after my studies was a great opportunity for transition and professional integration.
How did your volunteering experience go ? 
Clara: Amazingly well! Coming to live in Martinique for 6 months was a very enriching experience at all levels. From a personal point of view, despite the sanitary situation, it allowed me to discover a territory that was unknown to me before arriving, and which had plenty of good surprises for me! In addition to being a beautiful place, I found it very easy to feel good in Martinique, thanks to the setting, since it was the first for me living next to the sea. Moreover, I found it quite easy to meet new people here. I had no trouble making friends and enjoying my time here!
Professionally, this volunteering mission has been a particularly good experience to have as a young graduate. First of all, I had the chance to work with a great team and in a very good atmosphere. It also has allowed me to precise my professional project, but also to strengthen my skills and feel more confident about entering the job market.
Serena: My arrival in a context of health crisis and lockdown meant starting my volunteering experience from home. Moreover, I was immediately involved in a major project, as the ELAN team was in the middle of organizing the 1st Virtual Student Fair of the Caribbean region! It was an opportunity to work directly in synergy, and I got to know a small, incredibly caring and dynamic team.
What did you like the most during your experience ? 
Clara: I really liked the essence of the ELAN project as well as my missions. The highlight for me was the two days of the ELAN virtual student fair, as well as its preparation beforehand. It was a very formative moment for me because I really attended all the steps in the preparation of the event. Also, I could talk for hours about everything I liked about living in Martinique. Being rather into sports and hiking, living here was really a luxury for me.
Serena: First of all, I was lucky enough to work with an efficient, caring and very helpful team. Being able to feel at ease with your colleagues is not given to everyone, and this greatly fac our interactions, especially in a context where working from home is the norm! Moreover, my participation in the organization of the ELAN Virtual Fair was fast-paced and very busy, but I loved witnessing the outcome of such a project. Finally, being able to work in Martinique, an island I am very attached to, was a big advantage for me.
What did you like the least during your experience ? 
Clara: In my opinion, the only negative point of the volunteering mission is the amount of the financial support. Indeed, as it is a European program, the grant is calculated according to the cost of living of the various European countries. For Martinique, it is calculated based on the cost of living in France. Thus, the amount is not very high compared to the cost of living in Martinique, which is quite expensive. It was a bit of a limit, especially for the activities during my spare time. But still, I was lucky to enough to have been able to save money during the pandemic. But I think that the amount of the grant can be a real obstacle for many young people, and I find that unfortunate, because being able to have such experience is a real chance!
Serena: The allowance offered by IVY is not a salary but a bonus; life being particularly expensive in Martinique, much more so than in France, managing the budget was really a challenge for me. Plus, I do not own a driving license, which was an issue on an island where the car is the main means of transportation. Finally, the context of the health crisis that we are experiencing has inevitably had an impact on exchanges and cooperation between Caribbean islands, so naturally we had to adapt!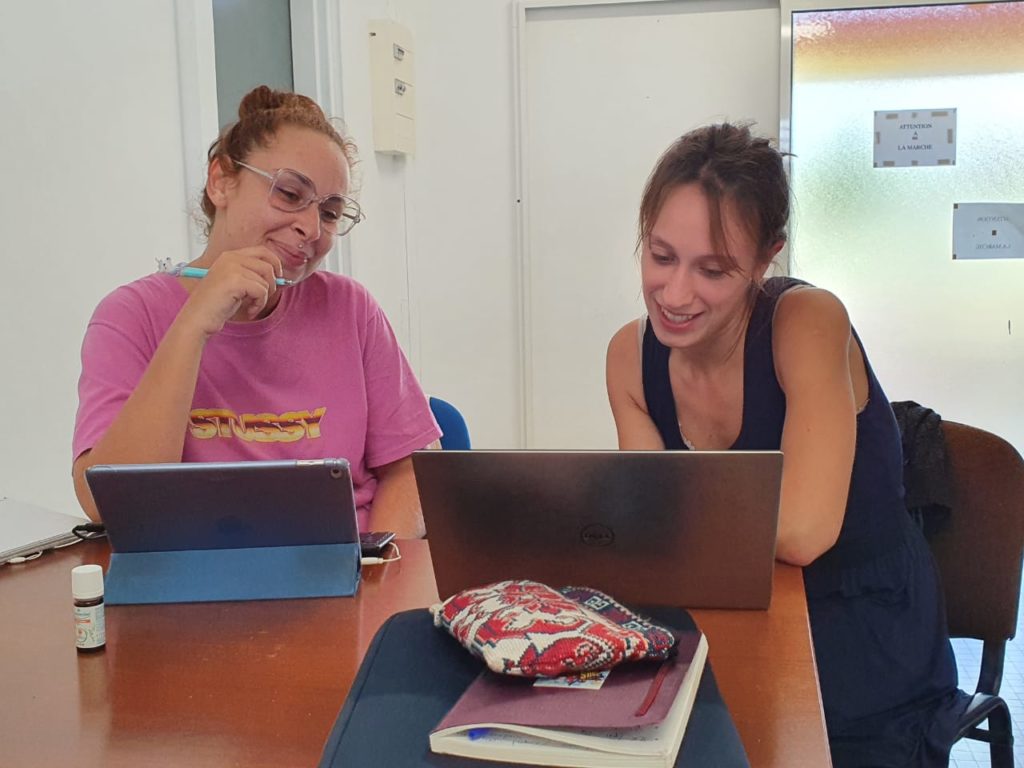 What memory will you keep from this experience ? 
Clara: I will keep an amazing memory of my volunteering experience. As I said, this mobility has been extremely enriching from all points of view for me. Unfortunately, my contract is coming to an end now, and I am not in a hurry to leave the island…
Serena: Without hesitation, the memory that marked me the most was the organization of the 1st ELAN Virtual Student Fair! Beyond long-term project management, my participation in the preparation of this Fair made me understand that I liked the field of events, which I will keep in mind in my future prospects.
Thank you to Clara and Serena for their testimonials but also and above all for all the work accomplished during the last 6 months, with rigor, seriousness and always in a good mood! Clara and Serena have been a real driving force within the ELAN project team.
The ELAN team had the pleasure of welcoming other volunteers in 2020. Audrey Joseph also confided to us that she had wanted to join the ELAN team because this project "immediately stroke her attention. Indeed, I found it very promising with multiple objectives aimed at further highlighting the Caribbean basin and thus breathe new life into our regions. The notion of cooperation is at the heart of this ambitious project and I find it great that our regions can work together on common objectives in order to enhance this Caribbean area which has so much to contribute and which is still too little known.
In addition, I believe that learning through mobility is a unique and very rewarding opportunity both personally and professionally. The INTERREG-ELAN program is a real initiative which combines innovative practices and which aims in particular to promote this linguistic diversity.»
Cinthia Jérémy also gave us her testimony here. If you are also interested in the IVY volunteering adventure, register now here: