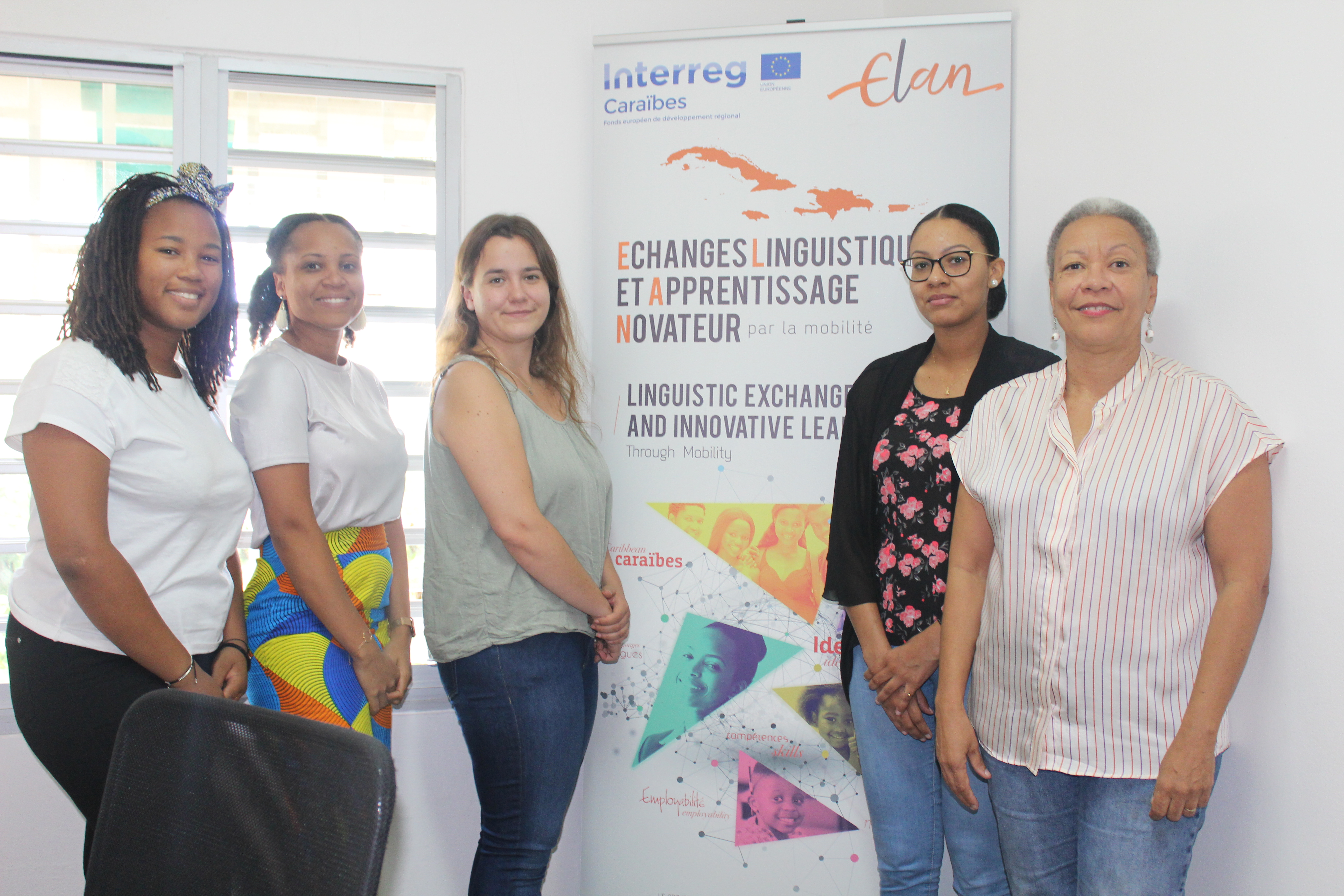 The ELAN team:  Project- lead, Madame Moetus-Schüller (first on the right); Urdine Darius, project manager « Higher Education and Communication », recruited by the Campus France partner (second from the left) and three Interreg volunteers, Audrey Joseph (second from the right), Laura Hartong (third from the left), Cinthia Jérémy (first on the left).
The « Interreg Volunteer Youth » (IVY) initiative offers young people, aged 18 to 30 years old, an opportunity to volunteer, within the frame of European regional and transnational cooperation projects. This unique opportunity can last between 2 and 6 months. Audrey, Laura and Cinthia have been taking an active part in the ELAN project, for a 6-month period which will end in May 2020, before making room for new volunteers.
Apart from helping with the global coordination of the project as team members, each volunteer is in charge of one aspect of ELAN. Audrey works specifically on school partnerships and on the creation of a regional internship database bank with the "Académie de Martinique"-the local education authority. Laura works closely with project managers of the Collectivité Territoriale de Martinique (The Territorial Authority of Martinique) on mobility programmes for technical and vocational training interns. Finally, Cinthia, under the direction of International project managers from INSPE (Institut Supérieur du Professorat et de l'Education),  the School of Education in Martinique, helps with the implementation of mobility programmes for prospective teachers and Master's students, as well as compared and collaborative research projects between the different education systems of the region.
The Association of European Border Regions is in charge of the recruitment and remuneration of the volunteers which give them the opportunity to live fulfilling and educational experiences.
ELAN helps reinforce the competences of young people within the Caribbean Bassin, thanks to mobility programmes, coupled with scholarships and travel allowances and also facilitates the profesionnal integration of graduates.
The team can also count on the support of the Direction and the management assistant of the GIP-FCIP de l'Académie de Martinique, and on the strong commitment of the other project partners. Indeed, working groups have been set up in order to ease the project implementation and physical and virtual meetings are organised on a regular basis.