While most carnival celebrations were canceled in 2020 and 2021 in the Caribbean, due to restrictions related to the Covid-19 health crisis, the Alliance Française of St Kitts & Nevis, part of the Alliance Française network in the English-speaking Caribbean and partner of the ELAN project, undertook to shed light on this major cultural event in our Caribbean region.
Organized at the initiative of the Alliance Française of St Kitts & Nevis and its director, Ms. Marine Moncaut, and in order to adapt to the modalities of interaction during this health crisis, a series of free online discussions on Carnival in the Caribbean took place every Wednesday in December 2020, the month in which the traditional carnival festivities take place in St Kitts & Nevis.
These discussions, accessible in French and English, were carried out simultaneously by various actors in the carnival sector, coming from different territories of the Caribbean, namely, Guadeloupe, Martinique, Dominica, St Kitts & Nevis as well as St Martin.
The objective of these discussions was to show that as diverse as the Caribbean is, carnival represents one of the traditions common to all the territories of the region. Although this tradition takes various forms, it nevertheless creates a strong cultural, social, political and economic dynamic wherever it exists.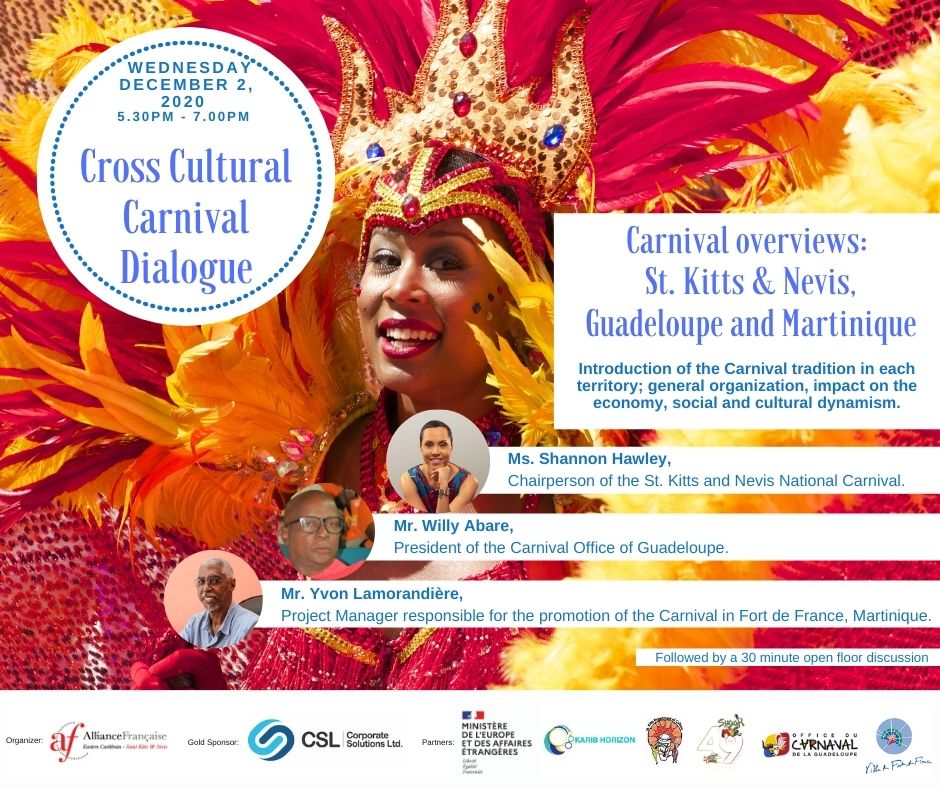 With the festivities canceled or adapted online or in different formats in most of the regions of the region, it is clear that the use of new technologies could not only facilitate a new way of life and interactions, but also reduce barriers related to insularity and language.
The Cross-Cultural Carnival Dialogue was a time devoted to the exploration and discovery of each other, in preparation for a future period of celebration after the health crisis, which will only be better!
This series of discussions is now available on the social media of the Alliance Française of St Kitts & Nevis here and on the Youtube channel of the regional multi-stakeholder network Guadeloupe-Caribbean Karib Horizon, co of the event as well as the Department of Culture of St Kitts & Nevis.
Themes of the discussions: 
The recordings of the discussions are accessible by clicking on the following links: